Hydraulic Surgical Operating Table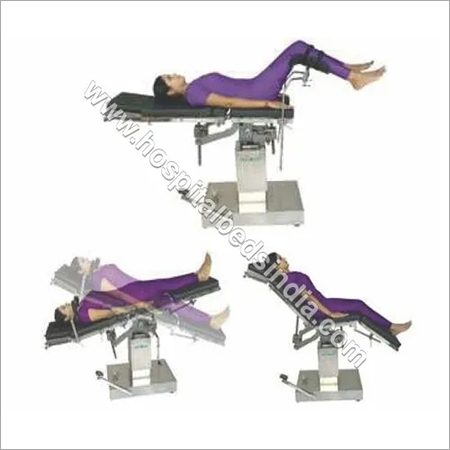 Hydraulic Surgical Operating Table
Product Description
Hydraulic Surgical Operating Table
Salient Features:

Precision made hydraulic system with a single lever action hydraulic lift controlled by a foot pedal.
Five section stainless steel top gives anatomic adaptation to the patient body.
Built in kidney bridge and large perineal cut-out of drainage.
All the operating positions comprising Lithotomy, proctology, Trendelenburg and Reverse Trendelengburg, Lateral tilt, Flex/Reflex and Chair Position, etc. can obtained from either side of the table by working of different handles.
Standard Accessories:

Anesthetic screen
Shoulder supports with pad.
Lateral supports with pad
Arm boards with pad
Knee crutches
Water proof rubber mattress.