LED Surgical Lights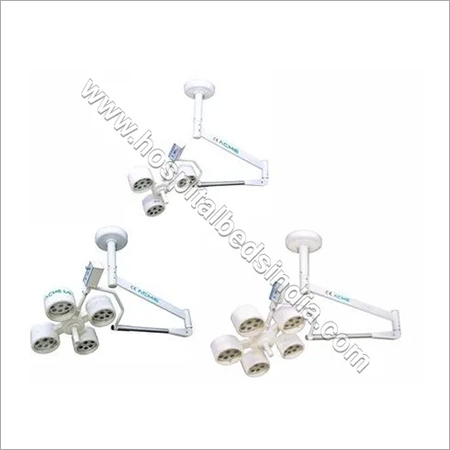 LED Surgical Lights
Product Description
ACME LED surgical lights, designed for low heat and high efficiency with latest LED technology. ACME LED lights consume as little as half the electricity of standard halogen lights with a virtually cold light output.

Features:

Clear tissue visualization
Proper central illumination
4,8000 Kelvin color temperature
Long-life LED bulbs last upto 45,000 hours.
Available in a variety of ceiling, wall and portable mounts.
10-stage dimming and on/off switch controlled from the patented sterilizable handle.
Specification:
| | | | | | | | | | | | |
| --- | --- | --- | --- | --- | --- | --- | --- | --- | --- | --- | --- |
| Model | Dome Size | Illumination | Colour Temp. | Light Spot (mm) | Luminance Grade Adjustable | Main Supply | Power Consumption (W) | Colour Index (Ra) | No. of LEDs | Minimum Installation (mm) | Average LED life (Hrs) |
| ACME-L3 | 550mm | 1,20,000 | 4300-4800 | 100 to 250 | Ten Grade Adjustment | -220V/50Hz | 80 W | >90 | 27 | As per Requirement | 40,000-45,000 Hrs |
| ACME-L4 | 600mm | 1,60,000 | 4300-4800 | 100 to 250 | Ten Grade Adjustment | -220V/50Hz | 100 W | >90 | 36 | As per Requirement | 40,000-45,000 Hrs |
| ACME-L5 | 650mm | 1,80,000 | 4300-4800 | 100 to 300 | Ten Grade Adjustment | -220V/50Hz | 120 W | >90 | 45 | As per Requirement | 40,000-45,000 Hrs |