Mechanical ICu Bed (S.S. Bows)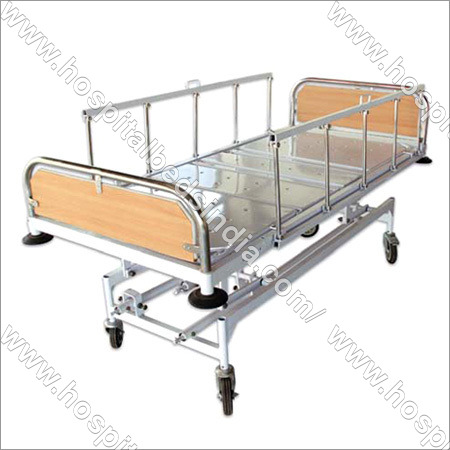 Mechanical ICu Bed (S.S. Bows)
Product Description
Mechanical ICu Bed (S.S. Bows)

Specification:
Overall Approximate size: 2100 mm (L) x 900 mm (W) x 500-800 mm (H).
Frame work made of Rectangular M.S. Tubes.
4 Section Top made of perforated CRC Sheet.
Stainless steel head and foot bows with laminated panels.
Aluminum collapsible safety side Railings.
Bed Mounted on 125mm. High grade synthetic Deluxe Castor, two with brakes.
Provision for S.S. Telescopic IV Rod with 4 Locations, 4 corner buffers.
Urine bag hooks provided on both sides.
Positions obtained by separate screw from foot end:
Trendlenburg
/ Reverse
Trendlenburg
All M.S. parts are Eight Tank Pre-treated & Epoxy Powder Coated.
4 Section Mattress ( ACME 1025 )
S.S. Telescopic I V Rod